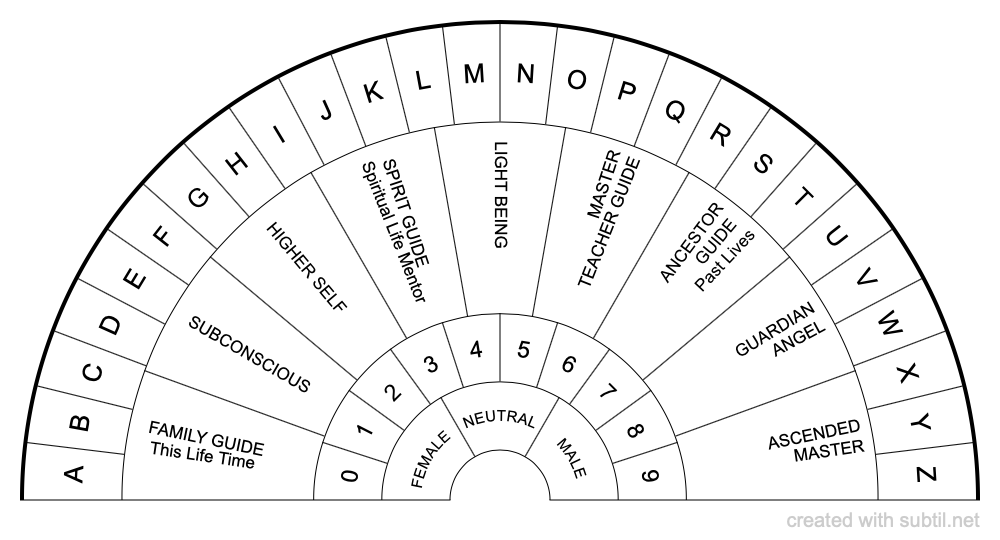 Identify Guides
Learn which Guide might be communicating with you.
Using letters you can ask their name.
Using the numbers you can ask from what year you know them, or how many past lives are they from.
Classified in : Subtle world
Display the contents of the chart
Letters A
B
C
D
E
F
G
H
I
J
K
L
M
N
O
P
Q
R
S
T
U
V
W
X
Y
Z

Type of Guide FAMILY GUIDE This Life Time
SUBCONSCIOUS
HIGHER SELF
SPIRIT GUIDE Spiritual Life Mentor
LIGHT BEING
MASTER TEACHER GUIDE
ANCESTOR GUIDE Past Lives
GUARDIAN ANGEL
ASCENDED MASTER

Numbers 0
1
2
3
4
5
6
7
8
9

Type FEMALE
NEUTRAL
MALE

To discover

offers a biometer generator and a space to share dowsing charts.
All the charts available on the site can be freely downloaded and printed
💙 Thanks to all users for this wonderful comm'one!