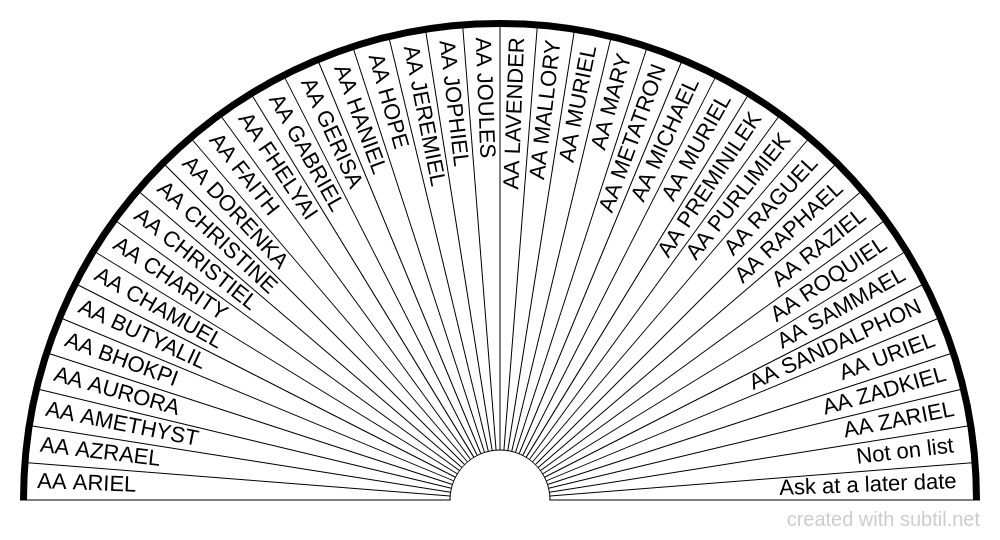 Archangel
Which Archangel was assigned to __________ at birth?
Classified in : Subtle world
Display the contents of the chart
Group AA ARIEL
AA AZRAEL
AA AMETHYST
AA AURORA
AA BHOKPI
AA BUTYALIL
AA CHAMUEL
AA CHARITY
AA CHRISTIEL
AA CHRISTINE
AA DORENKA
AA FAITH
AA FHELYAI
AA GABRIEL
AA GERISA
AA HANIEL
AA HOPE
AA JEREMIEL
AA JOPHIEL
AA JOULES
AA LAVENDER
AA MALLORY
AA MURIEL
AA MARY
AA METATRON
AA MICHAEL
AA MURIEL
AA PREMINILEK
AA PURLIMIEK
AA RAGUEL
AA RAPHAEL
AA RAZIEL
AA ROQUIEL
AA SAMMAEL
AA SANDALPHON
AA URIEL
AA ZADKIEL
AA ZARIEL
Not on list
Ask at a later date

To discover

offers a biometer generator and a space to share dowsing charts.
All the charts available on the site can be freely downloaded and printed
💙 Thanks to all users for this wonderful comm'one!