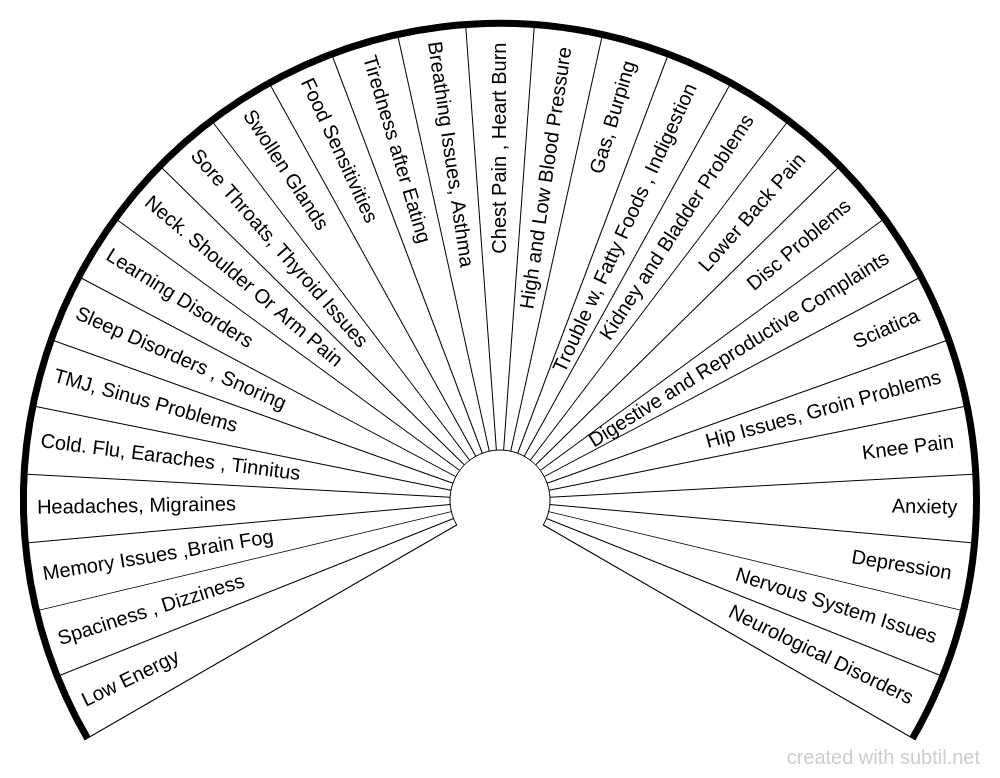 Spinal Blockages Gateway #3
Classified in : Health Care
Display the contents of the chart
Group Low Energy
Spaciness , Dizziness
Memory Issues ,Brain Fog
Headaches, Migraines
Cold. Flu, Earaches , Tinnitus
TMJ, Sinus Problems
Sleep Disorders , Snoring
Learning Disorders
Neck. Shoulder Or Arm Pain
Sore Throats, Thyroid Issues
Swollen Glands
Food Sensitivities
Tiredness after Eating
Breathing Issues, Asthma
Chest Pain , Heart Burn
High and Low Blood Pressure
Gas, Burping
Trouble w, Fatty Foods , Indigestion
Kidney and Bladder Problems
Lower Back Pain
Disc Problems
Digestive and Reproductive Complaints
Sciatica
Hip Issues, Groin Problems
Knee Pain
Anxiety
Depression
Nervous System Issues
Neurological Disorders

Linked charts
The following charts are in the same theme as chart "Spinal Blockages Gateway #3", they will bring you additional answers to deepen your research.
This is a chart based on gateways and blockages withn your spine. Here at the gateways and Nerve Supply . Chart #2 is the symptoms of spinal blockages and Spinal Level
This Chart Is Part 2 Of The Spinal Gateway For Spinal Blockages , This is the spinal level and symptoms of spinal blockages.

offers a biometer generator and a space to share dowsing charts.
All the charts available on the site can be freely downloaded and printed
💙 Thanks to all users for this wonderful comm'one!