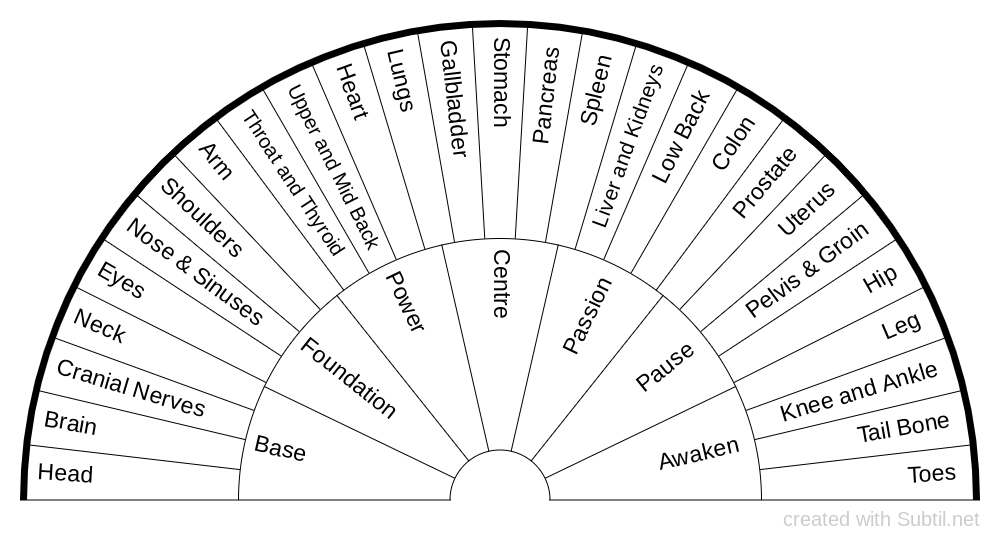 Spinal Gateways Chart #1
This is a chart based on gateways and blockages withn your spine. Here at the gateways and Nerve Supply . Chart #2 is the symptoms of spinal blockages and Spinal Level
Classified in : Health Care
Display the contents of the chart
New group 2 Head
Brain
Cranial Nerves
Neck
Eyes
Nose & Sinuses
Shoulders
Arm
Throat and Thyroid
Upper and Mid Back
Heart
Lungs
Gallbladder
Stomach
Pancreas
Spleen
Liver and Kidneys
Low Back
Colon
Prostate
Uterus
Pelvis & Groin
Hip
Leg
Knee and Ankle
Tail Bone
Toes

Group Base
Foundation
Power
Centre
Passion
Pause
Awaken

Linked charts
The following charts are in the same theme as chart "Spinal Gateways Chart #1", they will bring you additional answers to deepen your research.
This Chart Is Part 2 Of The Spinal Gateway For Spinal Blockages , This is the spinal level and symptoms of spinal blockages.

offers a biometer generator and a space to share dowsing charts.
All the charts available on the site can be freely downloaded and printed
💙 Thanks to all users for this wonderful comm'one!