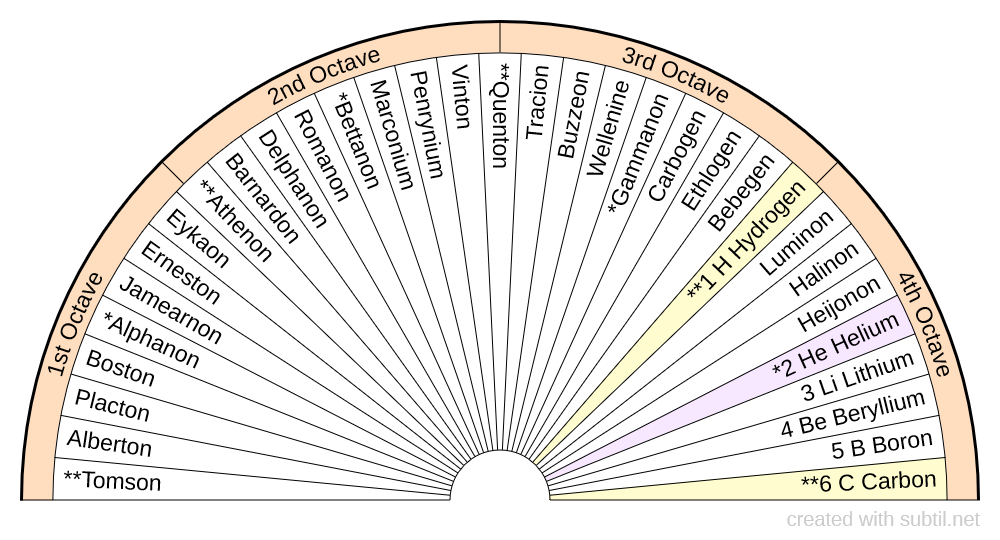 Octave 1-4 Periodic Table of Elements
Octaves 1, 2, 3, 4 of Walter Russel's periodic Table of Elements.
Classified in : Dowsing
Display the contents of the chart
Octave 1st Octave
2nd Octave
3rd Octave
4th Octave

Element **Tomson
Alberton
Placton
Boston
*Alphanon
Jamearnon
Erneston
Eykaon
**Athenon
Barnardon
Delphanon
Romanon
*Bettanon
Marconium
Penrynium
Vinton
**Quenton
Tracion
Buzzeon
Wellenine
*Gammanon
Carbogen
Ethlogen
Bebegen
**1 H Hydrogen
Luminon
Halinon
Heijonon
*2 He Helium
3 Li Lithium
4 Be Beryllium
5 B Boron
**6 C Carbon

Linked charts
The following charts are in the same theme as chart "Octave 1-4 Periodic Table of Elements", they will bring you additional answers to deepen your research.

offers a biometer generator and a space to share dowsing charts.
All the charts available on the site can be freely downloaded and printed
💙 Thanks to all users for this wonderful comm'one!