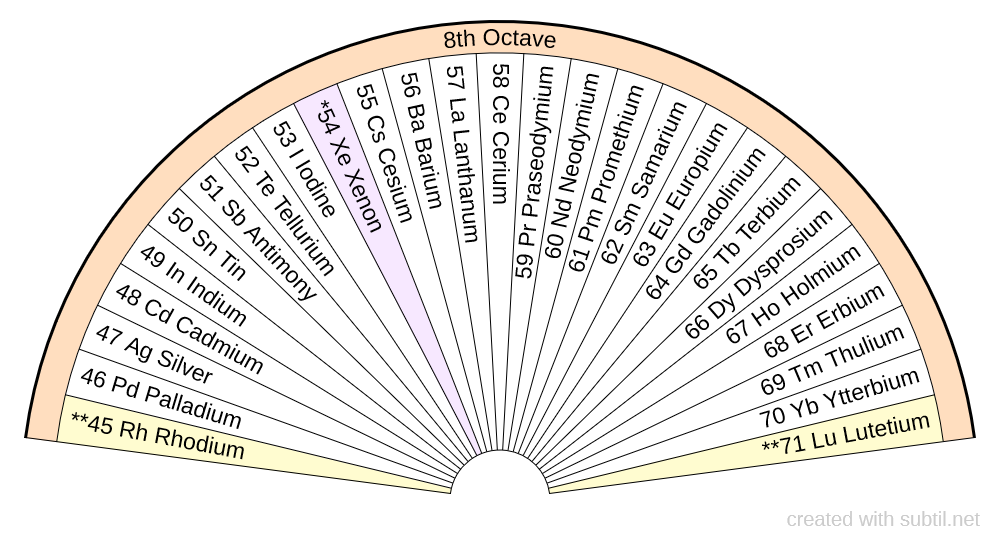 Octave 8 Periodic Table of Elements
Octave 8 of Walter Russell's Periodic table of Elements.
Classified in : Dowsing
Display the contents of the chart
Octave 8th Octave

Elements **45 Rh Rhodium
46 Pd Palladium
47 Ag Silver
48 Cd Cadmium
49 In Indium
50 Sn Tin
51 Sb Antimony
52 Te Tellurium
53 I Iodine
*54 Xe Xenon
55 Cs Cesium
56 Ba Barium
57 La Lanthanum
58 Ce Cerium
59 Pr Praseodymium
60 Nd Neodymium
61 Pm Promethium
62 Sm Samarium
63 Eu Europium
64 Gd Gadolinium
65 Tb Terbium
66 Dy Dysprosium
67 Ho Holmium
68 Er Erbium
69 Tm Thulium
70 Yb Ytterbium
**71 Lu Lutetium

Linked charts
The following charts are in the same theme as chart "Octave 8 Periodic Table of Elements", they will bring you additional answers to deepen your research.

offers a biometer generator and a space to share dowsing charts.
All the charts available on the site can be freely downloaded and printed
💙 Thanks to all users for this wonderful comm'one!