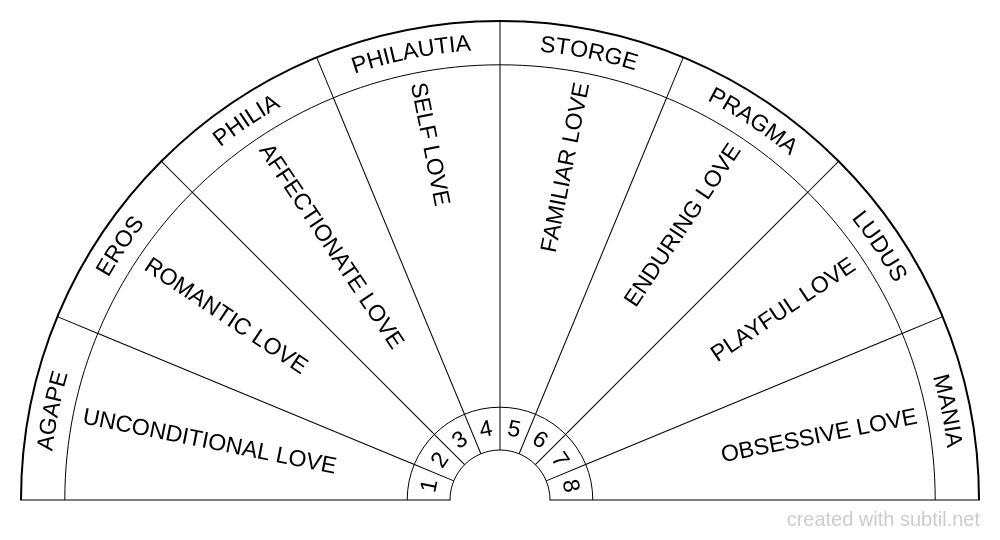 Types of love (Greek)
Use the chart to determine what type of love you are exuding to someone, and the type of love you are taking in from someone.
Classified in : Dowsing
Display the contents of the chart
New group 1 AGAPE
EROS
PHILIA
PHILAUTIA
STORGE
PRAGMA
LUDUS
MANIA

Group UNCONDITIONAL LOVE
ROMANTIC LOVE
AFFECTIONATE LOVE
SELF LOVE
FAMILIAR LOVE
ENDURING LOVE
PLAYFUL LOVE
OBSESSIVE LOVE

New group 2 1
2
3
4
5
6
7
8

To discover

offers a biometer generator and a space to share dowsing charts.
All the charts available on the site can be freely downloaded and printed
💙 Thanks to all users for this wonderful comm'one!