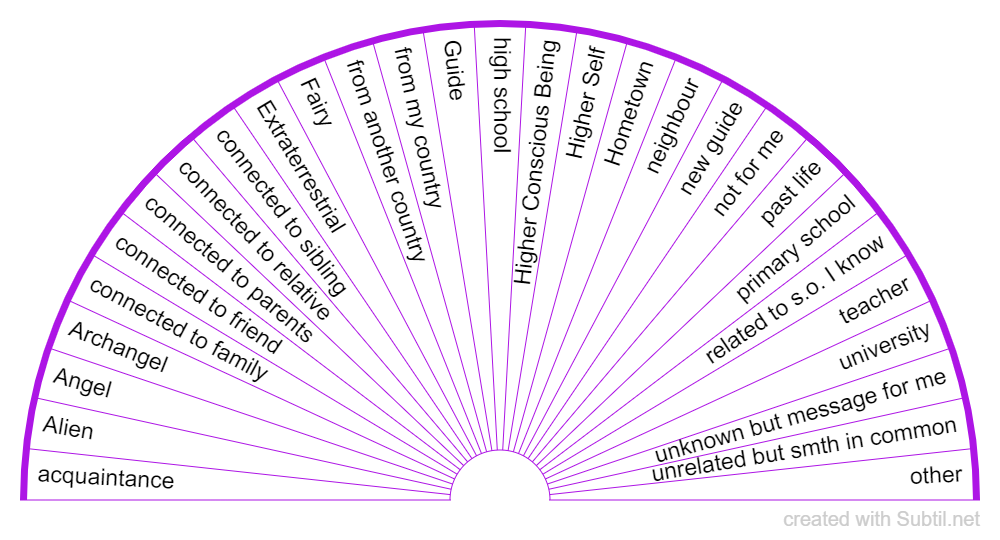 Mediumship
Sometimes it's hard to understand the evidence being brought through in Mediumship. This pendulum chart might help in such situations. you can edit it and add personal topics, like cities or countries you've lived in, bars or parties you frequently visit, groups you interact with, ...
Classified in : Dowsing Subtle world
Display the contents of the chart
Group acquaintance
Alien
Angel
Archangel
connected to family
connected to friend
connected to parents
connected to relative
connected to sibling
Extraterrestrial
Fairy
from another country
from my country
Guide
high school
Higher Conscious Being
Higher Self
Hometown
neighbour
new guide
not for me
past life
primary school
related to s.o. I know
teacher
university
unknown but message for me
unrelated but smth in common
other

To discover

offers a biometer generator and a space to share dowsing charts.
All the charts available on the site can be freely downloaded and printed
💙 Thanks to all users for this wonderful comm'one!