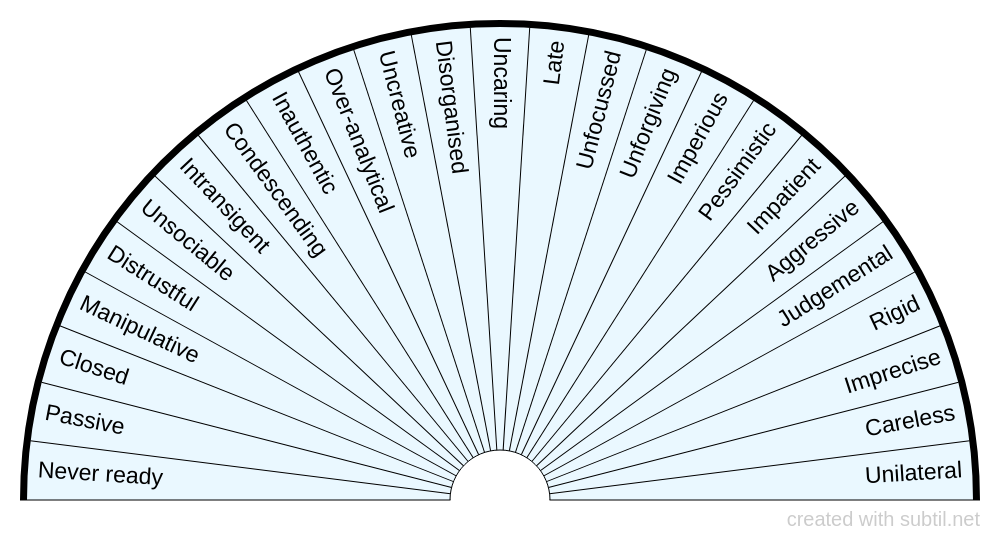 Attitudes fear-based
Check what Fear-based Attitude you or others are running clear to zero
Classified in : Health Care
Display the contents of the chart
Group Never ready
Passive
Closed
Manipulative
Distrustful
Unsociable
Intransigent
Condescending
Inauthentic
Over-analytical
Uncreative
Disorganised
Uncaring
Late
Unfocussed
Unforgiving
Imperious
Pessimistic
Impatient
Aggressive
Judgemental
Rigid
Imprecise
Careless
Unilateral

Linked charts
The following charts are in the same theme as chart "Attitudes fear-based", they will bring you additional answers to deepen your research.
Check what fear based energy you are attracting clear to zero.

offers a biometer generator and a space to share dowsing charts.
All the charts available on the site can be freely downloaded and printed
💙 Thanks to all users for this wonderful comm'one!