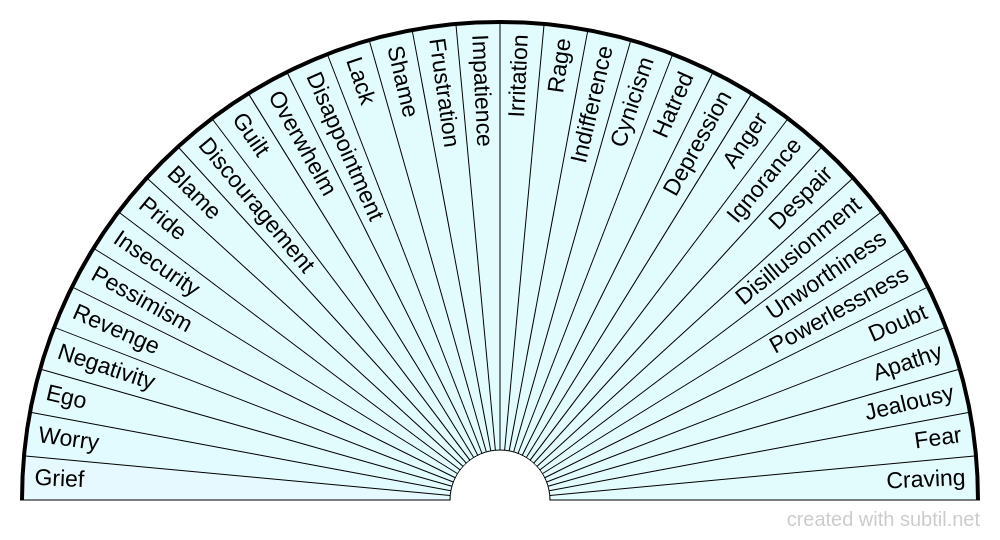 Emotional vibration fear-based
Check what emotional vibration you are running.
Classified in : Health Care
Display the contents of the chart
Group Grief
Worry
Ego
Negativity
Revenge
Pessimism
Insecurity
Pride
Blame
Discouragement
Guilt
Overwhelm
Disappointment
Lack
Shame
Frustration
Impatience
Irritation
Rage
Indifference
Cynicism
Hatred
Depression
Anger
Ignorance
Despair
Disillusionment
Unworthiness
Powerlessness
Doubt
Apathy
Jealousy
Fear
Craving

Linked charts
The following charts are in the same theme as chart "Emotional vibration fear-based", they will bring you additional answers to deepen your research.
Check what fear based energy you are attracting clear to zero.

offers a biometer generator and a space to share dowsing charts.
All the charts available on the site can be freely downloaded and printed
💙 Thanks to all users for this wonderful comm'one!