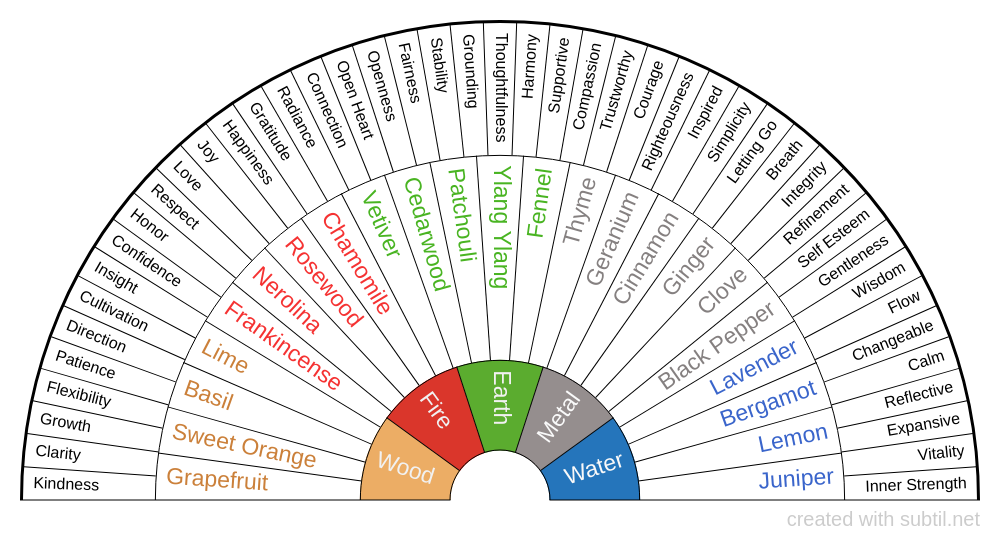 Essential Oils - Elements & Emotions
Essential Oils chart for creating blends to balance emotional states and elements.
Can be used to identify deficits or excess.
Classified in : Naturopathy
Display the contents of the chart
Emotions Kindness
Clarity
Growth
Flexibility
Patience
Direction
Cultivation
Insight
Confidence
Honor
Respect
Love
Joy
Happiness
Gratitude
Radiance
Connection
Open Heart
Openness
Fairness
Stability
Grounding
Thoughtfulness
Harmony
Supportive
Compassion
Trustworthy
Courage
Righteousness
Inspired
Simplicity
Letting Go
Breath
Integrity
Refinement
Self Esteem
Gentleness
Wisdom
Flow
Changeable
Calm
Reflective
Expansive
Vitality
Inner Strength

Essential Oils Grapefruit
Sweet Orange
Basil
Lime
Frankincense
Nerolina
Rosewood
Chamomile
Vetiver
Cedarwood
Patchouli
Ylang Ylang
Fennel
Thyme
Geranium
Cinnamon
Ginger
Clove
Black Pepper
Lavender
Bergamot
Lemon
Juniper

Elements Wood
Fire
Earth
Metal
Water

To discover

offers a biometer generator and a space to share dowsing charts.
All the charts available on the site can be freely downloaded and printed
💙 Thanks to all users for this wonderful comm'one!