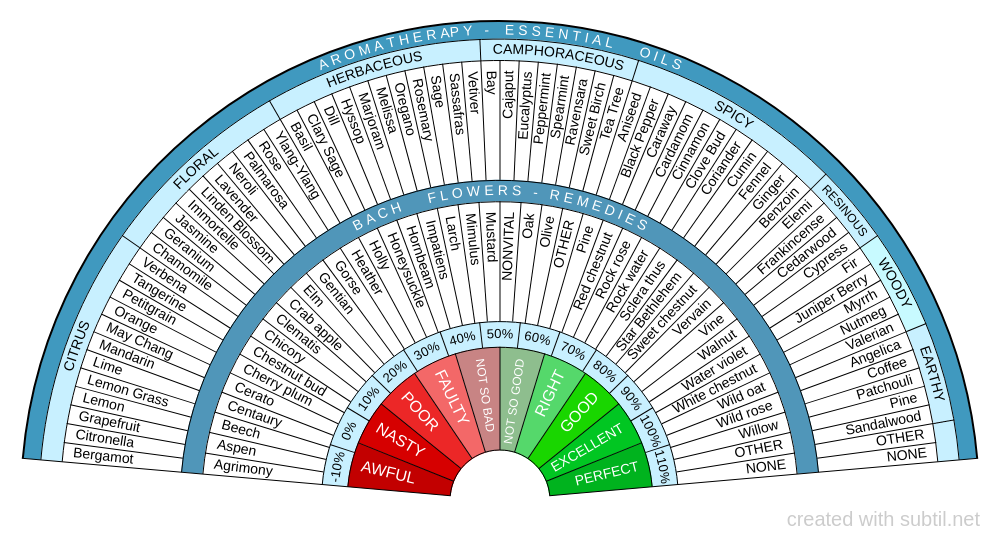 Essential oils & Bach flowers
Which Essential Aroma or Bach flower remedy is perfectly right for you ? Don't stop at one, there may be many more. To your eternal health !
Classified in : Naturopathy Health Care
Display the contents of the chart
HEADING essential oils A R O M A T H E R AP Y - E S S E N T I A L O I L S

HEADING - AROMATHERAPY families CITRUS
FLORAL
HERBACEOUS
CAMPHORACEOUS
SPICY
RESINOUS
WOODY
EARTHY


Essential Oils Bergamot
Citronella
Grapefruit
Lemon
Lemon Grass
Lime
Mandarin
May Chang
Orange
Petitgrain
Tangerine
Verbena
Chamomile
Geranium
Jasmine
Immortelle
Linden Blossom
Lavender
Neroli
Palmarosa
Rose
Ylang-Ylang
Basil
Clary Sage
Dill
Hyssop
Marjoram
Melissa
Oregano
Rosemary
Sage
Sassafras
Vetiver
Bay
Cajaput
Eucalyptus
Peppermint
Spearmint
Ravensara
Sweet Birch
Tea Tree
Aniseed
Black Pepper
Caraway
Cardamom
Cinnamon
Clove Bud
Coriander
Cumin
Fennel
Ginger
Benzoin
Elemi
Frankincense
Cedarwood
Cypress
Fir
Juniper Berry
Myrrh
Nutmeg
Valerian
Angelica
Coffee
Patchouli
Pine
Sandalwood
OTHER
NONE

HEADING - Bach Flowers B A C H F L O W E R S - R E M E D I E S

Bach Flowers Agrimony
Aspen
Beech
Centaury
Cerato
Cherry plum
Chestnut bud
Chicory
Clematis
Crab apple
Elm
Gentian
Gorse
Heather
Holly
Honeysuckle
Hornbeam
Impatiens
Larch
Mimulus
Mustard
NONVITAL
Oak
Olive
OTHER
Pine
Red chestnut
Rock rose
Rock water
Sclera thus
Star Bethlehem
Sweet chestnut
Vervain
Vine
Walnut
Water violet
White chestnut
Wild oat
Wild rose
Willow
OTHER
NONE

Percent -10%
0%
10%
20%
30%
40%
50%
60%
70%
80%
90%
100%
110%

To discover

offers a biometer generator and a space to share dowsing charts.
All the charts available on the site can be freely downloaded and printed
💙 Thanks to all users for this wonderful comm'one!