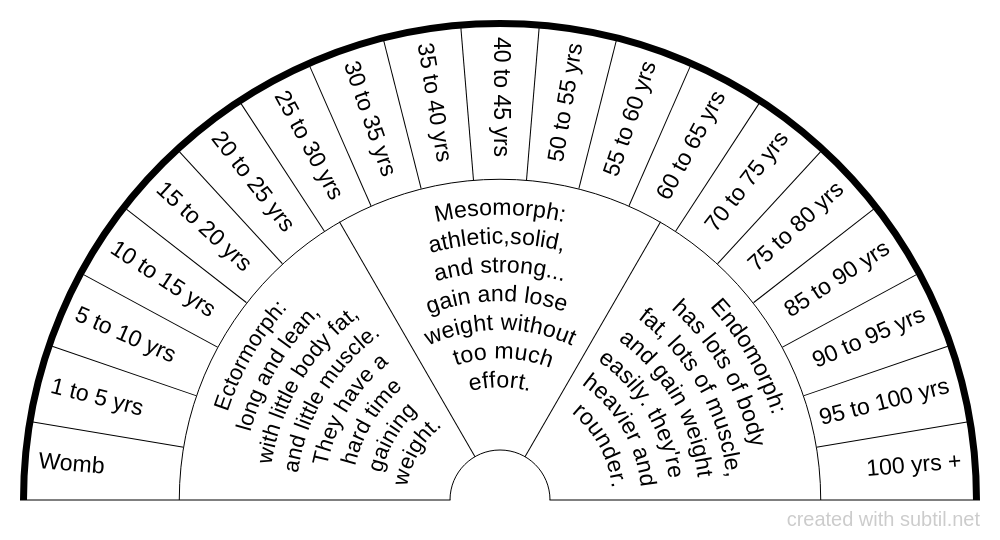 Age and Body Type
Classified in : Dowsing Health Care
Display the contents of the chart
Group Womb
1 to 5 yrs
5 to 10 yrs
10 to 15 yrs
15 to 20 yrs
20 to 25 yrs
25 to 30 yrs
30 to 35 yrs
35 to 40 yrs
40 to 45 yrs
50 to 55 yrs
55 to 60 yrs
60 to 65 yrs
70 to 75 yrs
75 to 80 yrs
85 to 90 yrs
90 to 95 yrs
95 to 100 yrs
100 yrs +

New group 1 Ectormorph: long and lean, with little body fat, and little muscle. They have a hard time gaining weight.
Mesomorph: athletic,solid, and strong... gain and lose weight without too much effort.
Endomorph: has lots of body fat, lots of muscle, and gain weight easily. they're heavier and rounder.

To discover

offers a biometer generator and a space to share dowsing charts.
All the charts available on the site can be freely downloaded and printed
💙 Thanks to all users for this wonderful comm'one!