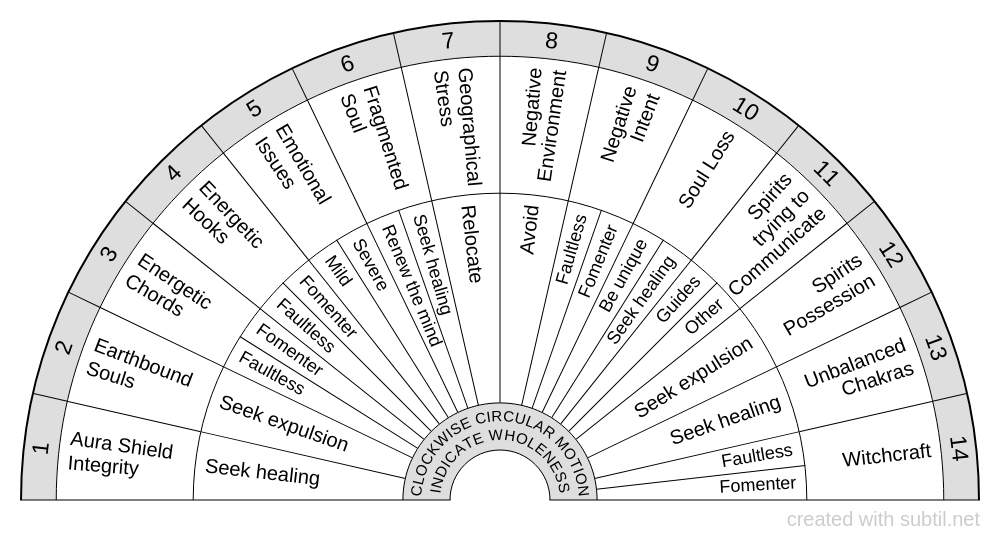 Personal spirit health checklist
The checklist is for those who have been made whole, and this is a basic list for routine checkup of spiritual health status henceforth, as this things happen easily.
Classified in : Dowsing Health Care
Display the contents of the chart
Group 1
2
3
4
5
6
7
8
9
10
11
12
13
14

New group 1 Aura Shield Integrity
Earthbound Souls
Energetic Chords
Energetic Hooks
Emotional Issues
Fragmented Soul
Geographical Stress
Negative Environment
Negative Intent
Soul Loss
Spirits trying to Communicate
Spirits Possession
Unbalanced Chakras
Witchcraft

New group 2 Seek healing
Seek expulsion
Faultless
Fomenter
Faultless
Fomenter
Mild
Severe
Renew the mind
Seek healing
Relocate
Avoid
Faultless
Fomenter
Be unique
Seek healing
Guides
Other
Seek expulsion
Seek healing
Faultless
Fomenter

New group 3 CLOCKWISE CIRCULAR MOTION INDICATE WHOLENESS

To discover

offers a biometer generator and a space to share dowsing charts.
All the charts available on the site can be freely downloaded and printed
💙 Thanks to all users for this wonderful comm'one!