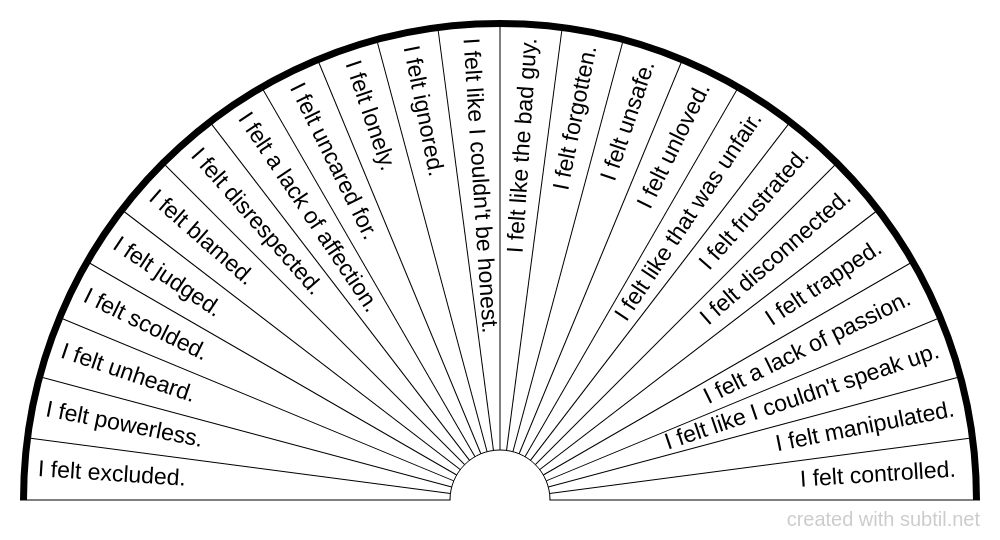 What triggered me ?
A chart on why you may have been triggered by a certain situation.
Classified in : Dowsing Health Care
Display the contents of the chart
Group I felt excluded.
I felt powerless.
I felt unheard.
I felt scolded.
I felt judged.
I felt blamed.
I felt disrespected.
I felt a lack of affection.
I felt uncared for.
I felt lonely.
I felt ignored.
I felt like I couldn't be honest.
I felt like the bad guy.
I felt forgotten.
I felt unsafe.
I felt unloved.
I felt like that was unfair.
I felt frustrated.
I felt disconnected.
I felt trapped.
I felt a lack of passion.
I felt like I couldn't speak up.
I felt manipulated.
I felt controlled.

To discover

offers a biometer generator and a space to share dowsing charts.
All the charts available on the site can be freely downloaded and printed
💙 Thanks to all users for this wonderful comm'one!