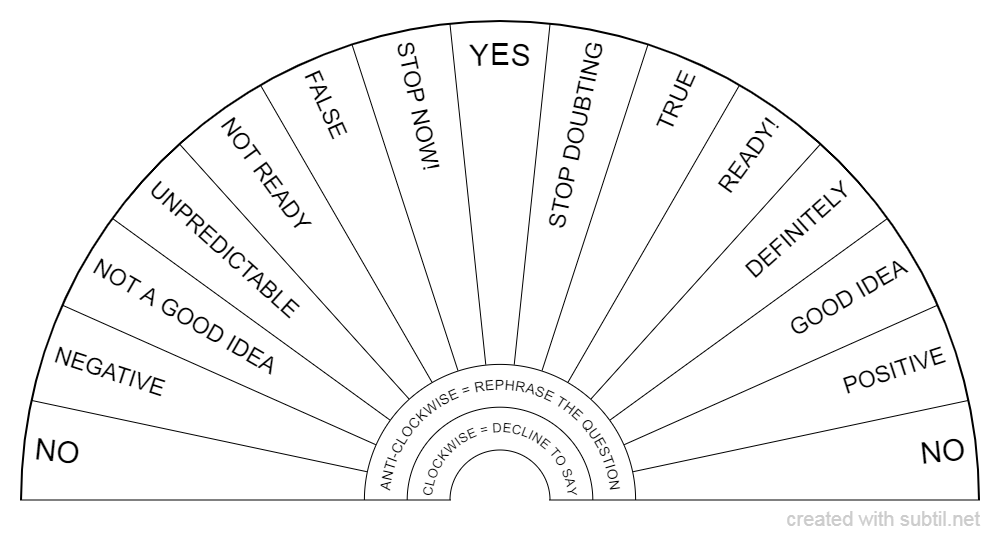 Dialogue chart
A chart based on how I communicate with my Ascended Masters. I get a lot of psychic attacks, thus needed to add "Stop now!" to prevent erroneous answers.
Classified in : Dowsing
Display the contents of the chart
Group NO
NEGATIVE
NOT A GOOD IDEA
UNPREDICTABLE
NOT READY
FALSE
STOP NOW!
YES
STOP DOUBTING
TRUE
READY!
DEFINITELY
GOOD IDEA
POSITIVE
NO

New group 1 ANTI-CLOCKWISE = REPHRASE THE QUESTION

New group 2 CLOCKWISE = DECLINE TO SAY

To discover

offers a biometer generator and a space to share dowsing charts.
All the charts available on the site can be freely downloaded and printed
💙 Thanks to all users for this wonderful comm'one!