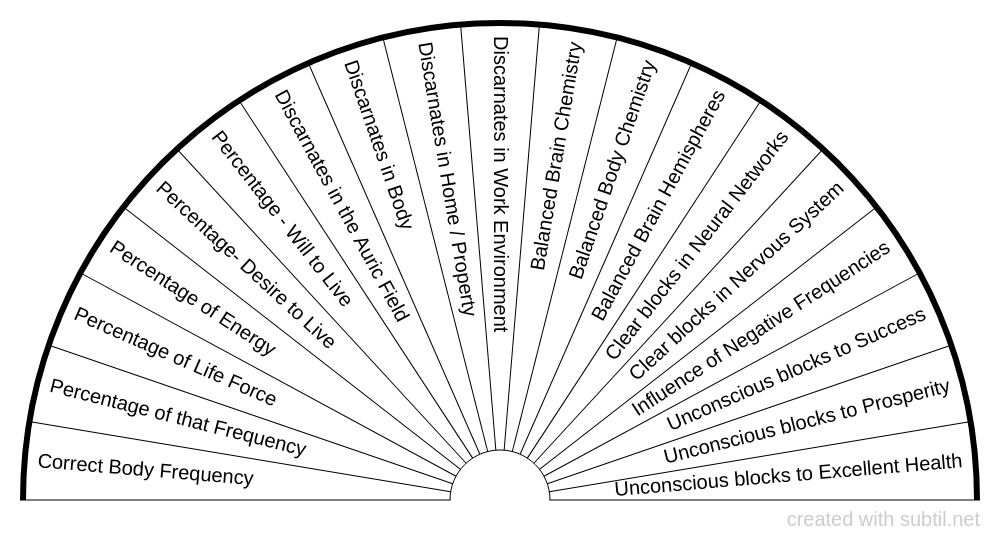 Daily Dowsing for Yourself - Chart 1
Things to check and adjust or optimize for yourself on a regular basis.
Classified in : Dowsing
Display the contents of the chart
Group Correct Body Frequency
Percentage of that Frequency
Percentage of Life Force
Percentage of Energy
Percentage- Desire to Live
Percentage - Will to Live
Discarnates in the Auric Field
Discarnates in Body
Discarnates in Home / Property
Discarnates in Work Environment
Balanced Brain Chemistry
Balanced Body Chemistry
Balanced Brain Hemispheres
Clear blocks in Neural Networks
Clear blocks in Nervous System
Influence of Negative Frequencies
Unconscious blocks to Success
Unconscious blocks to Prosperity
Unconscious blocks to Excellent Health

Linked charts
The following charts are in the same theme as chart "Daily Dowsing for Yourself - Chart 1", they will bring you additional answers to deepen your research.
More things to check and Clear or adjust for yourself on a regular basis.

offers a biometer generator and a space to share dowsing charts.
All the charts available on the site can be freely downloaded and printed
💙 Thanks to all users for this wonderful comm'one!