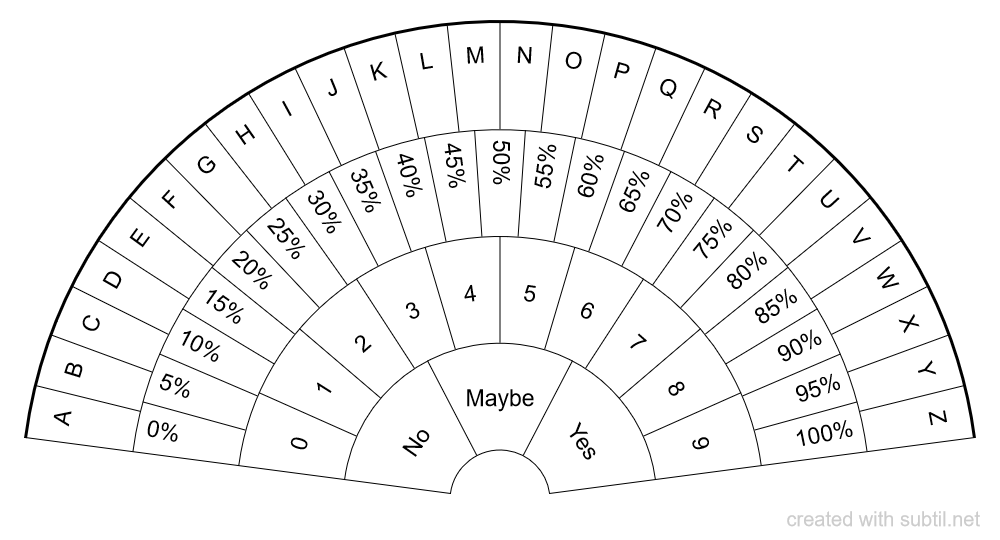 Universal pt1: Practical
To be printed double-sided with 'Universal pt2: Magickal' to meet most needs.
Top - Bottom: Letters: Percentile, Numbers, Answers
Classified in : Dowsing
Display the contents of the chart
Letters A
B
C
D
E
F
G
H
I
J
K
L
M
N
O
P
Q
R
S
T
U
V
W
X
Y
Z

Rank 0%
5%
10%
15%
20%
25%
30%
35%
40%
45%
50%
55%
60%
65%
70%
75%
80%
85%
90%
95%
100%

Numbers 0
1
2
3
4
5
6
7
8
9

Answers No
Maybe
Yes

Linked charts
The following charts are in the same theme as chart "Universal pt1: Practical", they will bring you additional answers to deepen your research.
To be printed double-sided with 'Universal pt1: Practical' to meet most needs. Top - Bottom: Zodiac, Planets, Chakras, Elements (W,E,A,F)

offers a biometer generator and a space to share dowsing charts.
All the charts available on the site can be freely downloaded and printed
💙 Thanks to all users for this wonderful comm'one!