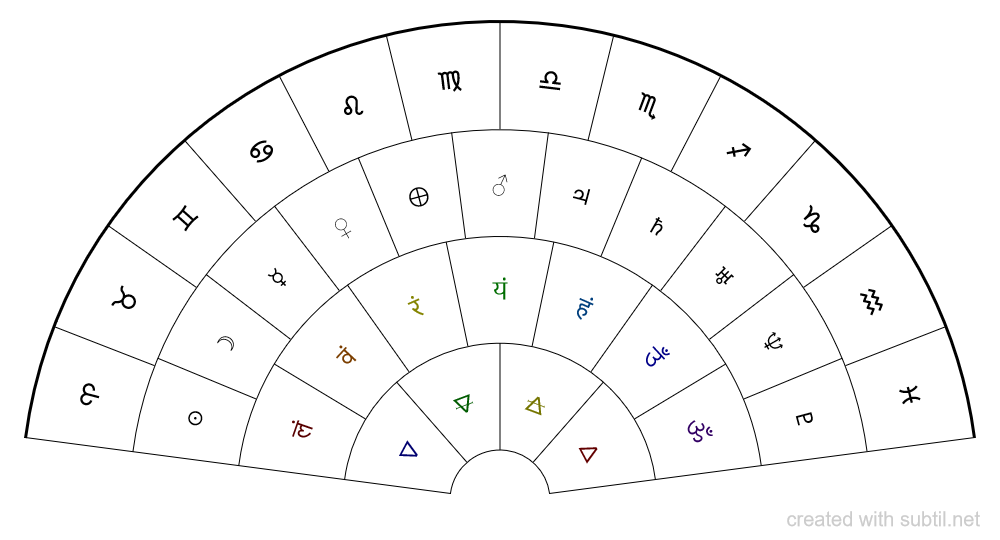 Universal pt2: Magickal
To be printed double-sided with 'Universal pt1: Practical' to meet most needs.
Top - Bottom: Zodiac, Planets, Chakras, Elements (W,E,A,F)
Classified in : Dowsing
Display the contents of the chart
Star Signs ♈︎
♉︎
♊︎
♋︎
♌︎
♍︎
♎︎
♏︎
♐︎
♑︎
♒︎
♓︎

Celestial Bodies ☉
☽
☿
♀
⊕
♂
♃
♄
♅
♆
♇

Chakras लं
वं
रं
यं
हं
उँ
ॐ

Elements 🜄
🜃
🜁
🜂

Linked charts
The following charts are in the same theme as chart "Universal pt2: Magickal", they will bring you additional answers to deepen your research.
To be printed double-sided with 'Universal pt2: Magickal' to meet most needs. Top - Bottom: Letters: Percentile, Numbers, Answers

offers a biometer generator and a space to share dowsing charts.
All the charts available on the site can be freely downloaded and printed
💙 Thanks to all users for this wonderful comm'one!