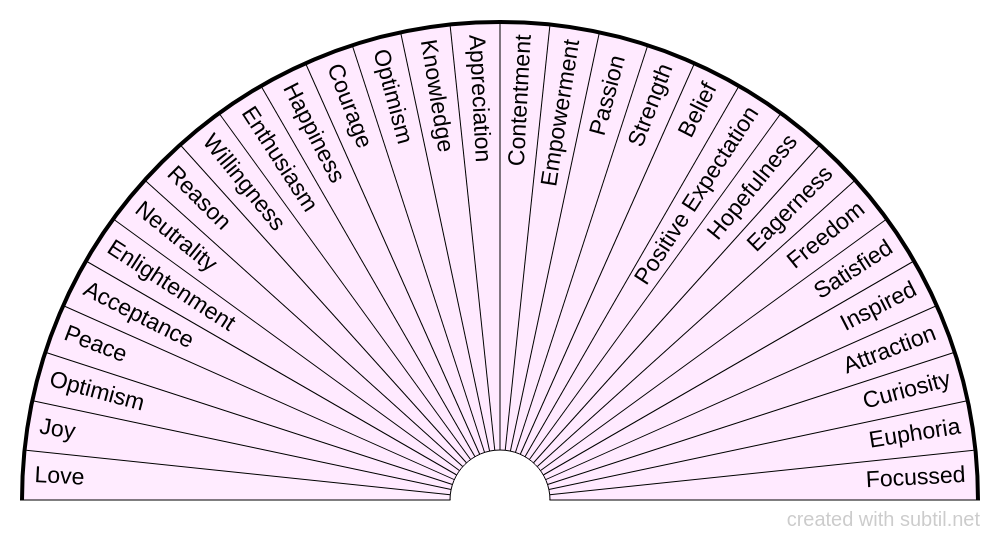 Emotional vibration love-based
Check what love based vibration you are running.
Classified in : Health Care
Display the contents of the chart
Group Love
Joy
Optimism
Peace
Acceptance
Enlightenment
Neutrality
Reason
Willingness
Enthusiasm
Happiness
Courage
Optimism
Knowledge
Appreciation
Contentment
Empowerment
Passion
Strength
Belief
Positive Expectation
Hopefulness
Eagerness
Freedom
Satisfied
Inspired
Attraction
Curiosity
Euphoria
Focussed

Linked charts
The following charts are in the same theme as chart "Emotional vibration love-based", they will bring you additional answers to deepen your research.
Check what love-based energies you are attracting or blocking and download.

offers a biometer generator and a space to share dowsing charts.
All the charts available on the site can be freely downloaded and printed
💙 Thanks to all users for this wonderful comm'one!