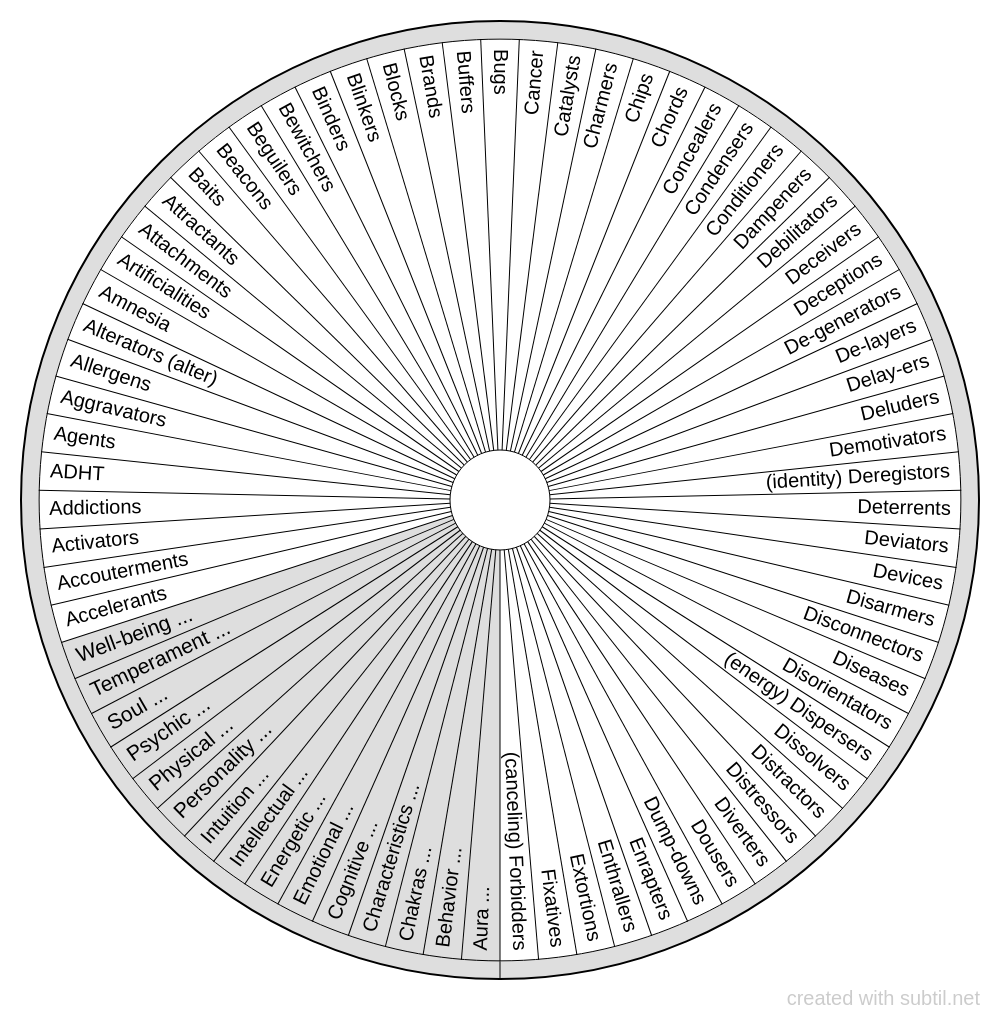 Darkside accouterments 1
These are the various implants, attachments and modifiers that the Darkside insert into/onto us to cause PERMANENT issues. Identify the issues and have them removed. An average human has about 51% of the issues within the charts.
Classified in : Health Care
Display the contents of the chart
Group

New group 1 Aura ...
Behavior ...
Chakras ...
Characteristics ...
Cognitive ...
Emotional ...
Energetic ...
Intellectual ...
Intuition ...
Personality ...
Physical ...
Psychic ...
Soul ...
Temperament ...
Well-being ...
Accelerants
Accouterments
Activators
Addictions
ADHT
Agents
Aggravators
Allergens
Alterators (alter)
Amnesia
Artificialities
Attachments
Attractants
Baits
Beacons
Beguilers
Bewitchers
Binders
Blinkers
Blocks
Brands
Buffers
Bugs
Cancer
Catalysts
Charmers
Chips
Chords
Concealers
Condensers
Conditioners
Dampeners
Debilitators
Deceivers
Deceptions
De-generators
De-layers
Delay-ers
Deluders
Demotivators
(identity) Deregistors
Deterrents
Deviators
Devices
Disarmers
Disconnectors
Diseases
Disorientators
(energy) Dispersers
Dissolvers
Distractors
Distressors
Diverters
Dousers
Dump-downs
Enrapters
Enthrallers
Extortions
Fixatives
(canceling) Forbidders

To discover

offers a biometer generator and a space to share dowsing charts.
All the charts available on the site can be freely downloaded and printed
💙 Thanks to all users for this wonderful comm'one!