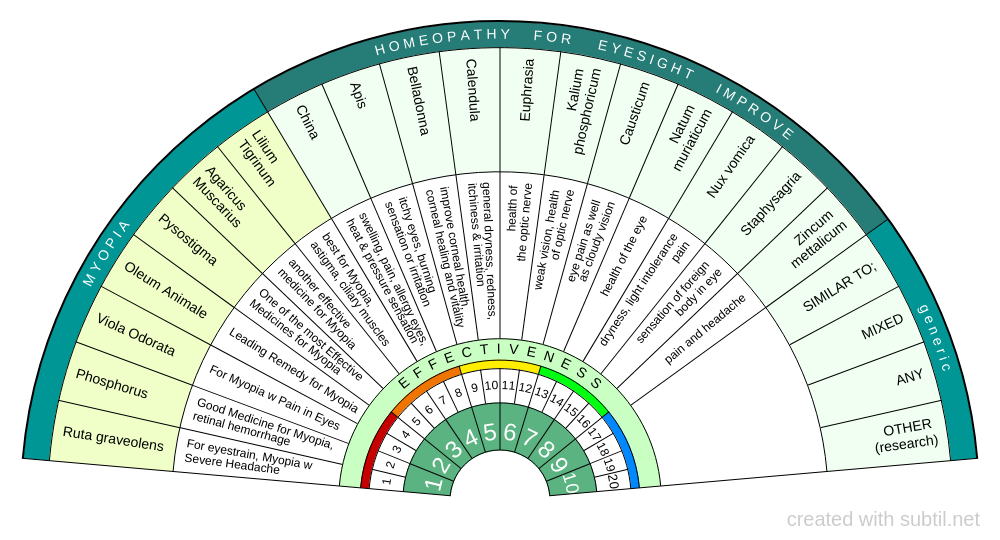 Homeopathy remedy 4 sight improvement
Chart to identify top homeopathy remedies to Improve yours or your clients' / friends' / families' eyesight and vision, safely and naturally.
Classified in : Naturopathy Health Care
Display the contents of the chart
TITLE- HOMEOPATHY FOR EYESIGHT IMPROVE M Y O P I A
H O M E O P A T H Y F O R E Y E S I G H T I M P R O V E
g e n e r i c

The Remedies Ruta graveolens
Phosphorus
Viola Odorata
Oleum Animale
Pysostigma
Agaricus Muscarius
Lilium Tigrinum
China
Apis
Belladonna
Calendula
Euphrasia
Kalium phosphoricum
Causticum
Natum muriaticum
Nux vomica
Staphysagria
Zincum mettalicum
SIMILAR TO;
MIXED
ANY
OTHER (research)

Description For eyestrain, Myopia w Severe Headache
Good Medicine for Myopia, retinal hemorrhage
For Myopia w Pain in Eyes
Leading Remedy for Myopia
One of the most Effective Medicines for Myopia
another effective medicine for Myopia
best for Myopia, astigma, ciliary muscles
swelling, pain, allergy eyes, heat & pressure sensation
itchy eyes, burning sensation or irritation
improve corneal health, corneal healing and vitality
general dryness, redness, itchiness & irritation
health of the optic nerve
weak vision, health of optic nerve
eye pain as well as cloudy vision
health of the eye
dryness, light intolerance pain
sensation of foreign body in eye
pain and headache


TITLE - effectiveness rating E F F E C T I V E N E S S

Colour rating





Number rating fine 1
2
3
4
5
6
7
8
9
10
11
12
13
14
15
16
17
18
19
20

To discover

offers a biometer generator and a space to share dowsing charts.
All the charts available on the site can be freely downloaded and printed
💙 Thanks to all users for this wonderful comm'one!