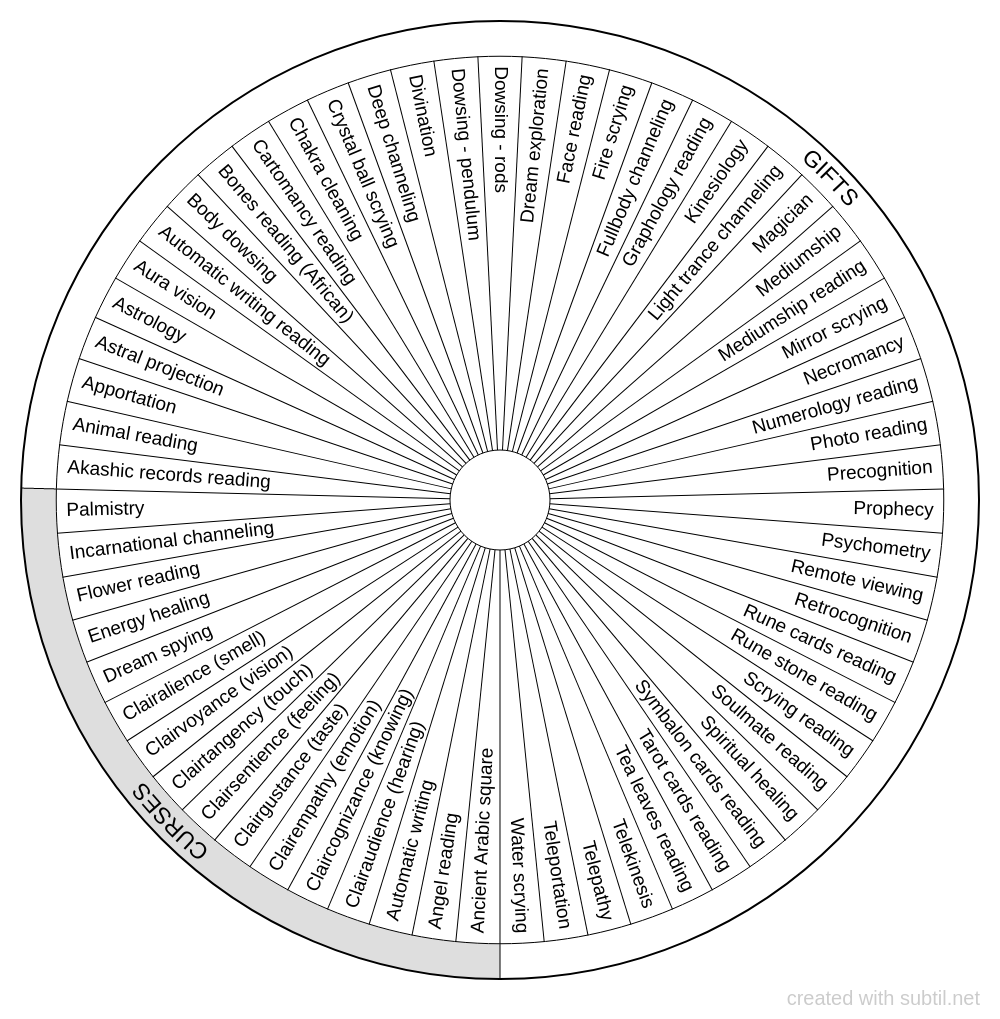 Psychic abilities with gifts & curses
It is up to the individual to realize that their "gift" was actually a curse, and whether they would like to keep their "gifts" or break the curses.
Where indicated, others are gifts.

Classified in : Dowsing
Display the contents of the chart
New group 2 CURSES
GIFTS

Group Ancient Arabic square
Angel reading
Automatic writing
Clairaudience (hearing)
Claircognizance (knowing)
Clairempathy (emotion)
Clairgustance (taste)
Clairsentience (feeling)
Clairtangency (touch)
Clairvoyance (vision)
Clairalience (smell)
Dream spying
Energy healing
Flower reading
Incarnational channeling
Palmistry
Akashic records reading
Animal reading
Apportation
Astral projection
Astrology
Aura vision
Automatic writing reading
Body dowsing
Bones reading (African)
Cartomancy reading
Chakra cleaning
Crystal ball scrying
Deep channeling
Divination
Dowsing - pendulum
Dowsing - rods
Dream exploration
Face reading
Fire scrying
Fullbody channeling
Graphology reading
Kinesiology
Light trance channeling
Magician
Mediumship
Mediumship reading
Mirror scrying
Necromancy
Numerology reading
Photo reading
Precognition
Prophecy
Psychometry
Remote viewing
Retrocognition
Rune cards reading
Rune stone reading
Scrying reading
Soulmate reading
Spiritual healing
Symbalon cards reading
Tarot cards reading
Tea leaves reading
Telekinesis
Telepathy
Teleportation
Water scrying

To discover

offers a biometer generator and a space to share dowsing charts.
All the charts available on the site can be freely downloaded and printed
💙 Thanks to all users for this wonderful comm'one!