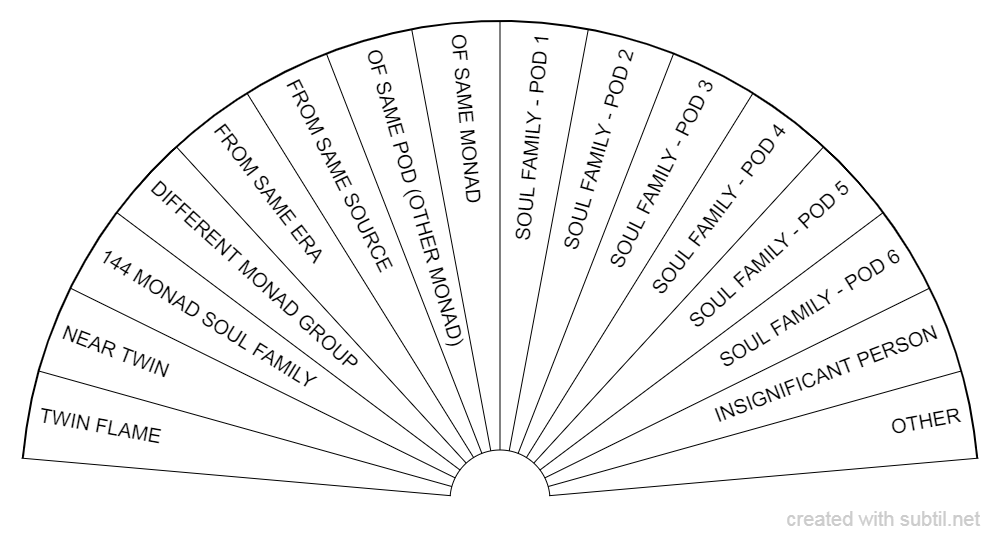 Monad and pod groups
For identification and placement of soul family groups.
For more understanding of monad and pod groups, read the Twin Flames and the Event book by Jen McCarty.
Classified in : Dowsing Health Care
Display the contents of the chart
Group TWIN FLAME
NEAR TWIN
144 MONAD SOUL FAMILY
DIFFERENT MONAD GROUP
FROM SAME ERA
FROM SAME SOURCE
OF SAME POD (OTHER MONAD)
OF SAME MONAD
SOUL FAMILY - POD 1
SOUL FAMILY - POD 2
SOUL FAMILY - POD 3
SOUL FAMILY - POD 4
SOUL FAMILY - POD 5
SOUL FAMILY - POD 6
INSIGNIFICANT PERSON
OTHER

To discover

offers a biometer generator and a space to share dowsing charts.
All the charts available on the site can be freely downloaded and printed
💙 Thanks to all users for this wonderful comm'one!