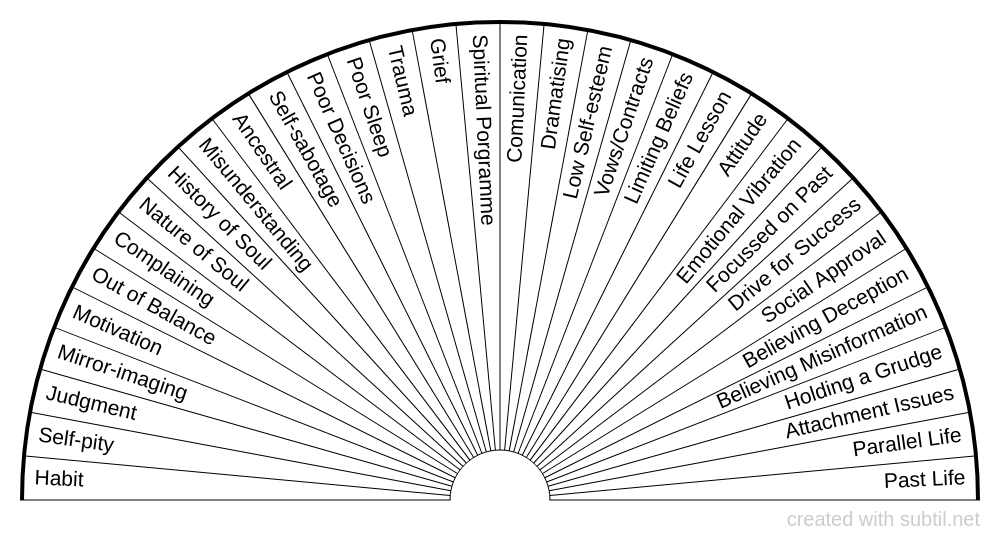 Why is this happening?
Research why is this happening.
Classified in : Health Care
Display the contents of the chart
Group Habit
Self-pity
Judgment
Mirror-imaging
Motivation
Out of Balance
Complaining
Nature of Soul
History of Soul
Misunderstanding
Ancestral
Self-sabotage
Poor Decisions
Poor Sleep
Trauma
Grief
Spiritual Porgramme
Comunication
Dramatising
Low Self-esteem
Vows/Contracts
Limiting Beliefs
Life Lesson
Attitude
Emotional Vibration
Focussed on Past
Drive for Success
Social Approval
Believing Deception
Believing Misinformation
Holding a Grudge
Attachment Issues
Parallel Life
Past Life

To discover

offers a biometer generator and a space to share dowsing charts.
All the charts available on the site can be freely downloaded and printed
💙 Thanks to all users for this wonderful comm'one!