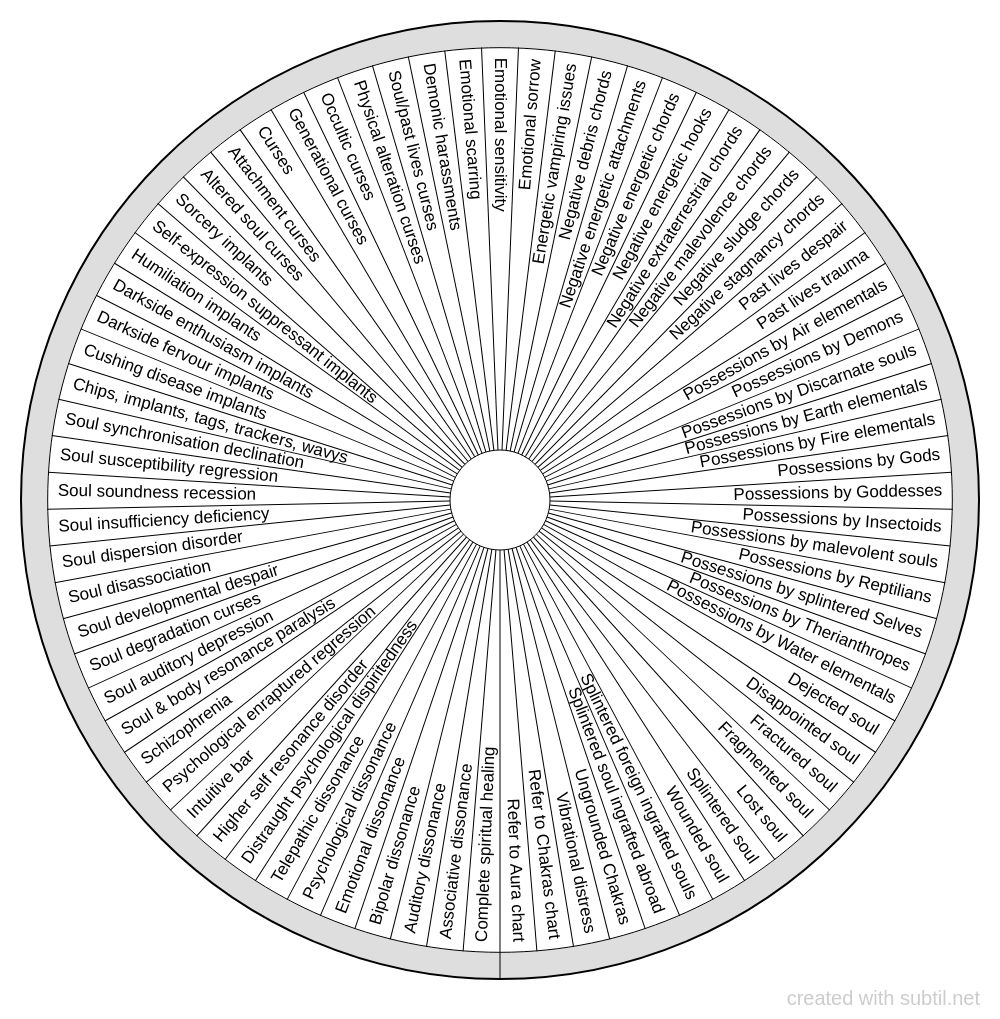 Spiritual issues
For almost complete spiritual and energetic healing. 44% of these came via intuition and are unheard of amid the humans.
Classified in : Health Care
Display the contents of the chart
New group 1

Group Complete spiritual healing
Associative dissonance
Auditory dissonance
Bipolar dissonance
Emotional dissonance
Psychological dissonance
Telepathic dissonance
Distraught psychological dispiritedness
Higher self resonance disorder
Intuitive bar
Psychological enraptured regression
Schizophrenia
Soul & body resonance paralysis
Soul auditory depression
Soul degradation curses
Soul developmental despair
Soul disassociation
Soul dispersion disorder
Soul insufficiency deficiency
Soul soundness recession
Soul susceptibility regression
Soul synchronisation declination
Chips, implants, tags, trackers, wavys
Cushing disease implants
Darkside fervour implants
Darkside enthusiasm implants
Humiliation implants
Self-expression suppressant implants
Sorcery implants
Altered soul curses
Attachment curses
Curses
Generational curses
Occultic curses
Physical alteration curses
Soul/past lives curses
Demonic harassments
Emotional scarring
Emotional sensitivity
Emotional sorrow
Energetic vampiring issues
Negative debris chords
Negative energetic attachments
Negative energetic chords
Negative energetic hooks
Negative extraterrestrial chords
Negative malevolence chords
Negative sludge chords
Negative stagnancy chords
Past lives despair
Past lives trauma
Possessions by Air elementals
Possessions by Demons
Possessions by Discarnate souls
Possessions by Earth elementals
Possessions by Fire elementals
Possessions by Gods
Possessions by Goddesses
Possessions by Insectoids
Possessions by malevolent souls
Possessions by Reptilians
Possessions by splintered Selves
Possessions by Therianthropes
Possessions by Water elementals
Dejected soul
Disappointed soul
Fractured soul
Fragmented soul
Lost soul
Splintered soul
Wounded soul
Splintered foreign ingrafted souls
Splintered soul ingrafted abroad
Ungrounded Chakras
Vibrational distress
Refer to Chakras chart
Refer to Aura chart

Linked charts
The following charts are in the same theme as chart "Spiritual issues", they will bring you additional answers to deepen your research.
Expanded version of the previous SPIRITUAL ISSUES CHART For almost complete spiritual and energetic healing. 44% of these came via intuition and are unheard of amid the humans.

offers a biometer generator and a space to share dowsing charts.
All the charts available on the site can be freely downloaded and printed
💙 Thanks to all users for this wonderful comm'one!