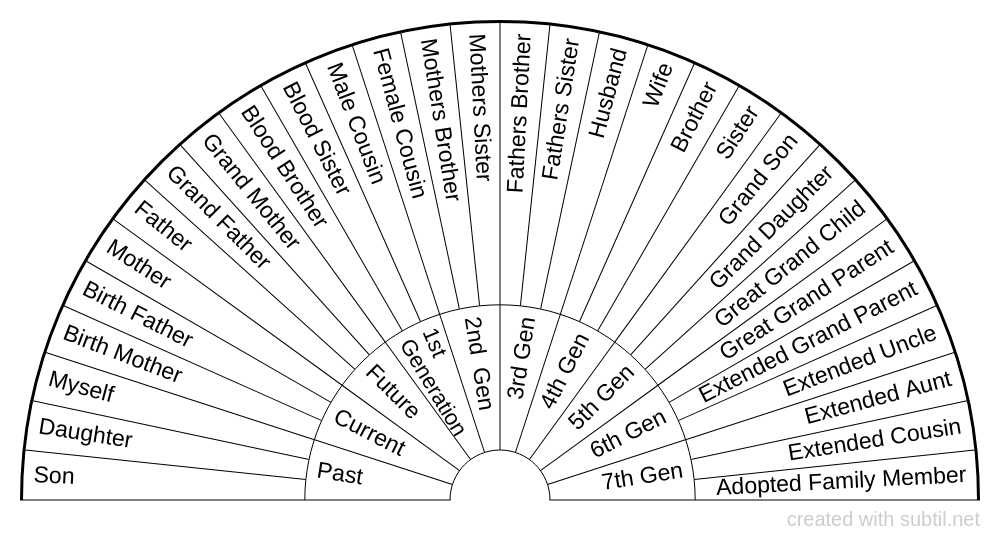 Family Relationships
Family Relationships that affect our love and fear.
Classified in : Dowsing
Display the contents of the chart
Family Members Son
Daughter
Myself
Birth Mother
Birth Father
Mother
Father
Grand Father
Grand Mother
Blood Brother
Blood Sister
Male Cousin
Female Cousin
Mothers Brother
Mothers Sister
Fathers Brother
Fathers Sister
Husband
Wife
Brother
Sister
Grand Son
Grand Daughter
Great Grand Child
Great Grand Parent
Extended Grand Parent
Extended Uncle
Extended Aunt
Extended Cousin
Adopted Family Member

Time Past
Current
Future
1st Generation
2nd Gen
3rd Gen
4th Gen
5th Gen
6th Gen
7th Gen

To discover

offers a biometer generator and a space to share dowsing charts.
All the charts available on the site can be freely downloaded and printed
💙 Thanks to all users for this wonderful comm'one!