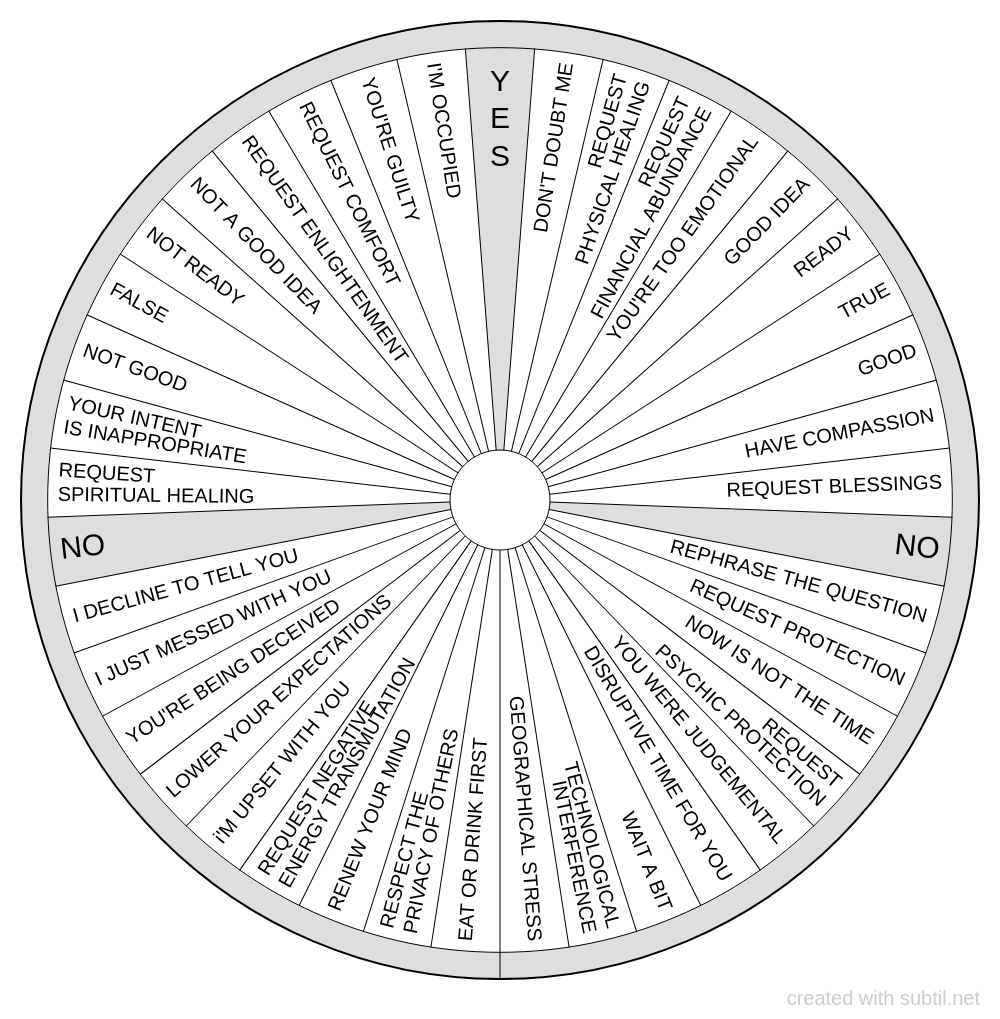 Deity dialogue
Updated the heading of the chart to make it gender neutral.
This chart was refined based on experience and instructions from the Deity.
Where you see "Request...", the Deity is asking you to ask her/him to protect/heal/transmute, bless you, etc.

Classified in : Subtle world
Display the contents of the chart
Group

New group 1 EAT OR DRINK FIRST
RESPECT THE PRIVACY OF OTHERS
RENEW YOUR MIND
REQUEST NEGATIVE ENERGY TRANSMUTATION
i'M UPSET WITH YOU
LOWER YOUR EXPECTATIONS
YOU'RE BEING DECEIVED
I JUST MESSED WITH YOU
I DECLINE TO TELL YOU
NO
REQUEST SPIRITUAL HEALING
YOUR INTENT IS INAPPROPRIATE
NOT GOOD
FALSE
NOT READY
NOT A GOOD IDEA
REQUEST ENLIGHTENMENT
REQUEST COMFORT
YOU'RE GUILTY
I'M OCCUPIED
Y E S
DON'T DOUBT ME
REQUEST PHYSICAL HEALING
REQUEST FINANCIAL ABUNDANCE
YOU'RE TOO EMOTIONAL
GOOD IDEA
READY
TRUE
GOOD
HAVE COMPASSION
REQUEST BLESSINGS
NO
REPHRASE THE QUESTION
REQUEST PROTECTION
NOW IS NOT THE TIME
REQUEST PSYCHIC PROTECTION
YOU WERE JUDGEMENTAL
DISRUPTIVE TIME FOR YOU
WAIT A BIT
TECHNOLOGICAL INTERFERENCE
GEOGRAPHICAL STRESS

Linked charts
The following charts are in the same theme as chart "Deity dialogue", they will bring you additional answers to deepen your research.

offers a biometer generator and a space to share dowsing charts.
All the charts available on the site can be freely downloaded and printed
💙 Thanks to all users for this wonderful comm'one!