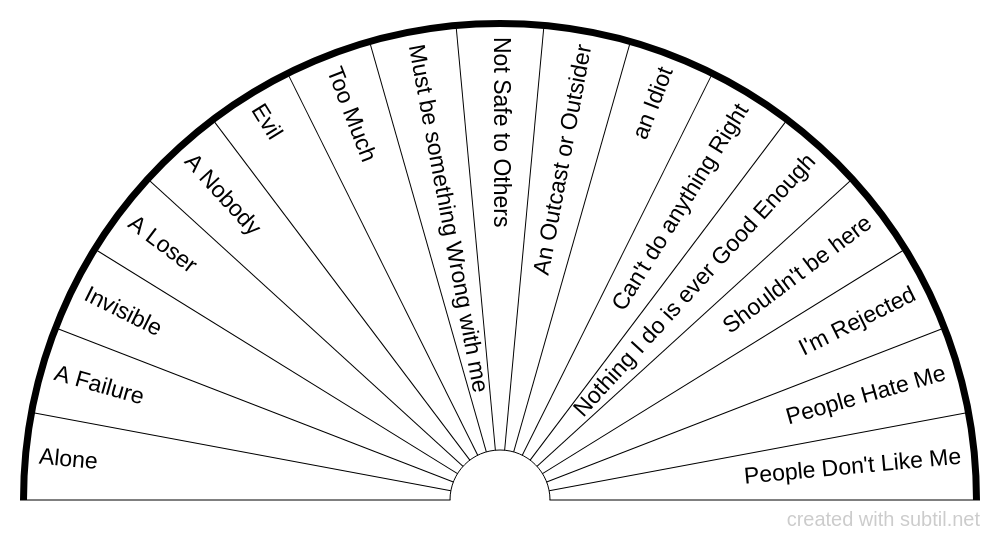 Negative Identity Beliefs 2
More Negative Identity Beliefs to Identify for the
purpose of knowing exactly what needs to be reprogrammed completely.
Classified in : Health Care
Display the contents of the chart
Group Alone
A Failure
Invisible
A Loser
A Nobody
Evil
Too Much
Must be something Wrong with me
Not Safe to Others
An Outcast or Outsider
an Idiot
Can't do anything Right
Nothing I do is ever Good Enough
Shouldn't be here
I'm Rejected
People Hate Me
People Don't Like Me

Linked charts
The following charts are in the same theme as chart "Negative Identity Beliefs 2", they will bring you additional answers to deepen your research.

offers a biometer generator and a space to share dowsing charts.
All the charts available on the site can be freely downloaded and printed
💙 Thanks to all users for this wonderful comm'one!