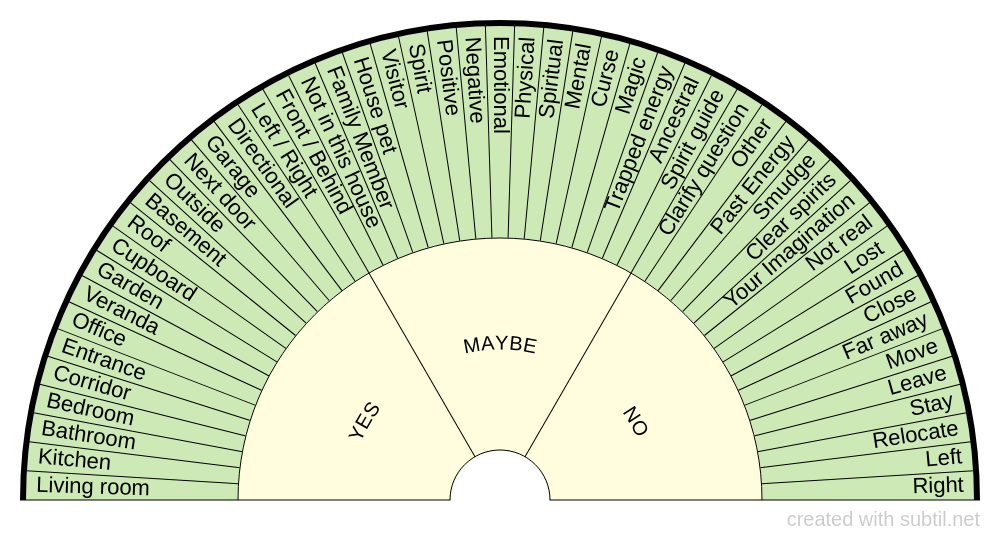 House Environment
To detect in which room a problem is located in the house.
Classified in : Geobiology
Display the contents of the chart
Location Living room
Kitchen
Bathroom
Bedroom
Corridor
Entrance
Office
Veranda
Garden
Cupboard
Roof
Basement
Outside
Next door
Garage
Directional
Left / Right
Front / Behind
Not in this house
Family Member
House pet
Visitor
Spirit
Positive
Negative
Emotional
Physical
Spiritual
Mental
Curse
Magic
Trapped energy
Ancestral
Spirit guide
Clarify question
Other
Past Energy
Smudge
Clear spirits
Your Imagination
Not real
Lost
Found
Close
Far away
Move
Leave
Stay
Relocate
Left
Right

YES NO MAYBE YES
MAYBE
NO

To discover

offers a biometer generator and a space to share dowsing charts.
All the charts available on the site can be freely downloaded and printed
💙 Thanks to all users for this wonderful comm'one!