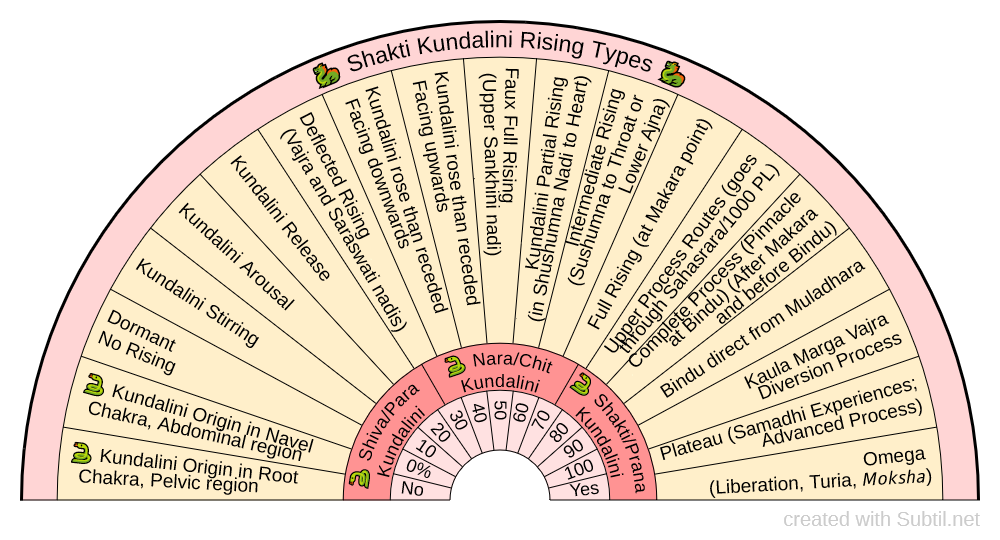 Kundalini rising types
A few of the types of kundalini rising one may encounter.
Classified in : Health Care
Display the contents of the chart
Title 🐉 Shakti Kundalini Rising Types 🐉

The Types 🐍 Kundalini Origin in Root Chakra, Pelvic region
🐍 Kundalini Origin in Navel Chakra, Abdominal region
Dormant No Rising
Kundalini Stirring
Kundalini Arousal
Kundalini Release
Deflected Rising (Vajra and Saraswati nadis)
Kundalini rose than receded Facing downwards
Kundalini rose than receded Facing upwards
Faux Full Rising (Upper Sankhini nadi)
Kundalini Partial Rising (in Shushumna Nadi to Heart)
Intermediate Rising (Sushumna to Throat or Lower Ajna)
Full Rising (at Makara point)
Upper Process Routes (goes through Sahasrara/1000 PL)
Complete Process (Pinnacle at Bindu) (After Makara and before Bindu)
Bindu direct from Muladhara
Kaula Marga Vajra Diversion Process
Plateau (Samadhi Experiences; Advanced Process)
Omega (Liberation, Turia, 𝘔𝘰𝘬𝘴𝘩𝘢)

Kundalini Types 🐍 Shiva/Para Kundalini
🐍 Nara/Chit Kundalini
🐍 Shakti/Prana Kundalini

N % Y No
0%
10
20
30
40
50
60
70
80
90
100
Yes

Linked charts
The following charts are in the same theme as chart "Kundalini rising types", they will bring you additional answers to deepen your research.

offers a biometer generator and a space to share dowsing charts.
All the charts available on the site can be freely downloaded and printed
💙 Thanks to all users for this wonderful comm'one!