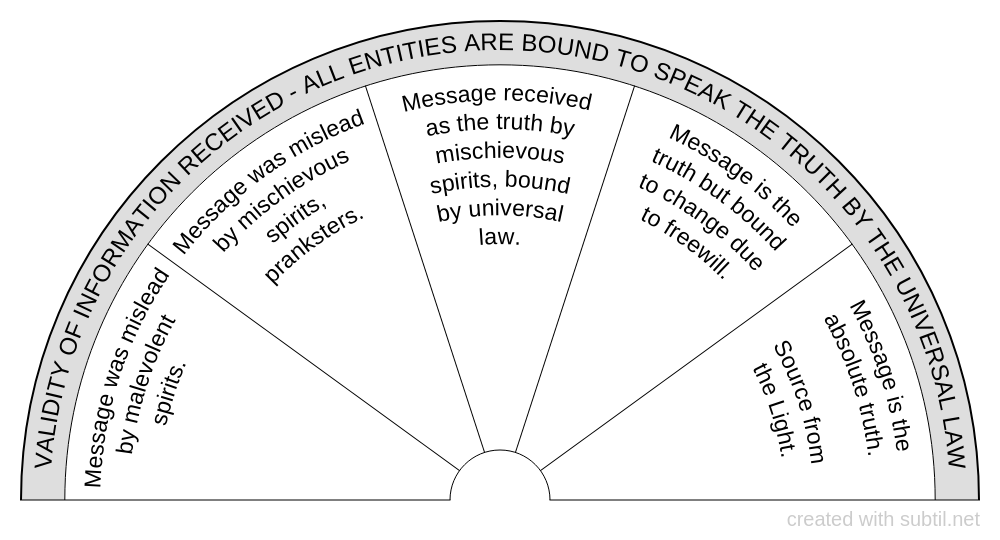 Truth gauge
We are under constant psychic attacks from people who are jealous of us, resent us, and hate us. They send negative energies and malevolent spirits are attracted to the negative energies, and consequently mess with our answers when we dowse.
Classified in : Dowsing
Display the contents of the chart
Group VALIDITY OF INFORMATION RECEIVED - ALL ENTITIES ARE BOUND TO SPEAK THE TRUTH BY THE UNIVERSAL LAW

New group 1 Message was mislead by malevolent spirits.
Message was mislead by mischievous spirits, pranksters.
Message received as the truth by mischievous spirits, bound by universal law.
Message is the truth but bound to change due to freewill.
Message is the absolute truth. Source from the Light.

To discover

offers a biometer generator and a space to share dowsing charts.
All the charts available on the site can be freely downloaded and printed
💙 Thanks to all users for this wonderful comm'one!